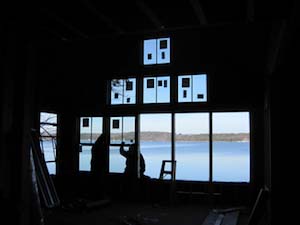 Who We Are
Mark began his career in construction in 1974 working on bridge construction before accepting employment with a site development/road building company owned by Deb's parents. Mark has supervised projects such as the rebuilding of Route 175 in Wentworth and logging roads for the National Forest Service. He worked on the installation of the Lincoln Woods Trail 180'suspension bridge at Lincoln Woods. He has managed the site work for single homeowners and multi home shore front developments. He has been performing site work and building custom homes for over 37 years, the last 20 years as an owner.
Past Affilations
Boy Scout Assistant Leader
Andover Lions Club Member
Deb began her career in banking and has worked in the building supply, ski area and nonprofit fields. Deb currently works full time at Winni Construction managing the office and is always pursuing opportunities to expand her knowledge of the building industry. Deb currently holds the NAHB designations CGB, CGR, CGP and CAPS and was the first woman in the state of NH to hold all four designations.
Recipient of the 2010 Blazing Star Grange of Danbury, Community Citizen of the Year Award.
Past Affilations
Board member and treasurer for the Lakes Region Home Builders chapter of the Home Builders and Remodelers Association of NH.
Danbury Planning Board Member
Danbury Community Center Board Member, Treasurer
Girl Scout Assistant Leader
Boy Scout Committee Member
Tapply Thompson Community Center Member
Alexandria Selectperson
New Hampton Planning Board Member
Ed has an Associate in Applied Science degree and began his career as an automotive technician. After several years in the automotive business he came on board at Winni Construction full time in 1999 and currently serves as lead carpenter.
Affilations
Eagle Scout – Ed's project provided an improved hiking trail to Inspiration Point on Little Roundtop at the Slim Baker Lodge in Bristol, NH.
Automotive Service Excellence Certified Master Mechanic
Melissa (Mark and Deb's daughter) is an Occupational Therapist and can provide home or building plan evaluations to ensure that new or renovated homes will meet the current or future special needs of Winni Construction's clients or their guests.