Winni Construction is a full-service New Hampshire Lakes Region construction company specializing in building custom homes, additions, renovations, site work and septic system installation. Winni Construction serves the scenic "Golden Pond" region of the Central Lakes, Lake Sunapee, Lake Winnisquam, Lake Winnipesaukee and Newfound Lake regions and surrounding areas.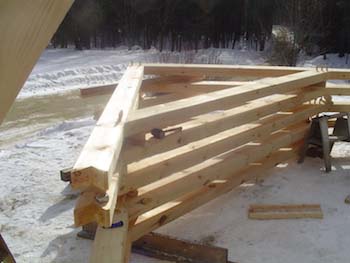 Winni Construction is family owned and operated by the Phelps family. Mark, his wife Deb and their son Ed are first, second and third generation contractors and are hands on owners that expertlyhandle every aspect of each project. We have 85 years of experience of leading and building quality homes and dwellings... And the memories that go along with them.
From operating heavy equipment to the intricate details of finish carpentry and handling all the paperwork that goes along with a project our clients take comfort in knowing that an owner of Winni Construction will be on site to offer personalized service that ensures their project meets their every specification.
We have extensive experience in projects that require that the existing dwelling be raised and removed including the installation of new foundations. Our experience runs from building breathtaking waterfront dwellings to historic barns.
Our build techniques range from traditional stick build methods, to timber frame methods to Structural Insulated Panels (SIPS). We have worked with clients to obtain Shoreland Protection Permits and have installed perched beaches and retaining walls. We have demolished existing dwellings that have outlived their usefulness saving any appropriate materials to rebuild an energy efficient home on the same lot.
WE LOOK FORWARD TO SERVING YOU
When it comes to building your home, one size does not fit all. Winni Construction will work directly alongside with you on your project with as much or as little involvement as you would like. We can build from your architect's plans or work with you to design your home from your dreams or pencil drawings. Typically we are on the project until the final details are completed, and the keys are turned over. In some cases, however, clients have taken on their own painting, staining and urethaning while other clients have taken over the project as soon as the house was weather tight. The bottom line is we work with our clients in whatever capacity they like and need. In the final analysis, because your home is personal, we listen to what you want and offer our expertise to provide you with the project that meets your vision, dreams and expectations to provide memories for years to come!
As a member of the Home Builders and Remodelers Association we abide by the HBRANH Code of Ethics.